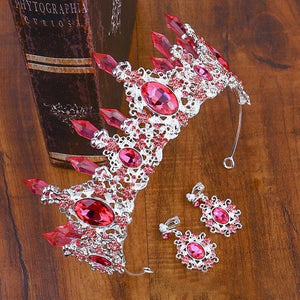 Transform Into A Goddess With This Beautiful Tiara.
So many of our crowns are adaptable. They can be worn with a gorgeous ballgown or a pair of jeans. That's the beauty of our store. That's the beauty of life. It's what you make it. You create it. Whatever your style, Fairytale Creators has a crown to suit you.
This crown also comes in white, purple, dark blue, sky blue, red/gold, red/silver and green!
The quality of Fairytale Creators crowns will ASTOUND you.

This handmade, luxury, breathtaking crown is intricately designed. Decorated with crystal rhinestones and a sturdy, yet pliable metal frame. This crown is designed so you can easily pin it into your hair. (We recommend large bobby pins.) Height: 7.5cm Comes with a playful set of matching earrings. When you place our crowns on your beautiful head you will be thrilled by their excellence.
Free Shipping! Typically takes between 12-39 days. Sorry about that, our products are made with love... and a little bit of Fairy Dust. ❤︎
100% Secure Checkout. We guarantee our products are delivered to you with care and as described. See reviews below.