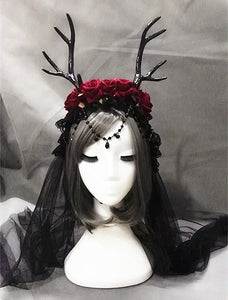 This One's For All Our Cosplay Loving Fairytale Creators!
Halloween, costume parties, cosplay events, wild concerts, witchy videos. There are quite a few places you can wear this piece. You just have to be bold enough. Get a little wild. A little devilish... ;) 
The quality of Fairytale Creators crowns will ASTOUND you.
This breathtaking headpiece is intricately designed. Decorated with artificial antlers, flowers, fabric and rhinestone beads. This luxury handmade diadem is created with a sturdy, yet pliable frame. When you place our crowns on your beautiful head you will be thrilled by their excellence.
Free Shipping! Typically takes between 12-39 days. Sorry about that, our products are made with love... and a little bit of Fairy Dust. ❤︎
100% Secure Checkout. We guarantee our products are delivered to you with care and as described. See reviews below.