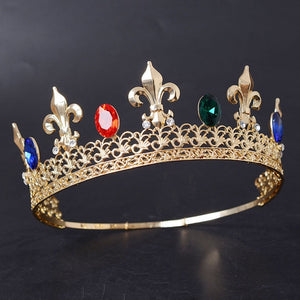 Children Know They Rule The World. They know they are the center of the Universe. They know life revolves around them. They are right. Do not lose your childlike sparkle. Don't yearn for something when you have the power to grasp it!
Throw on a crown and fulfill your Destiny. If there's a man in your life that needs a little pick-me-up, gift him this crown. Encourage him. Tell him he is a King, the World is his for the taking and you have his back. A gift he'll never forget...
The quality of Fairytale Creators crowns will ASTOUND you.
This breathtaking adjustable crown is intricately designed. Decorated with rhinestones and a sturdy, yet pliable metal frame. When you place our crowns on your beautiful head you will be thrilled by their excellence.
Free Shipping! Typically takes between 12-39 days. Sorry about that, our products are made with love... and a little bit of Fairy Dust. ❤︎
100% Secure Checkout. We guarantee our products are delivered to you with care and as described. See reviews below.